Voted New York City's Best Soccer Program for Kids
🏆 2019, 2020, 2021, 2022, 2023 🏆
SocRoc's Featured Programs
Encouraging kids to be physically active through soccer aka fútbol.
"
We organized a six week group class with SocRoc, and it was great! Our children were 2 and 3 years old, so it was no easy feat to structure a class that made sense and was lots of fun for the group. Coach Kevin was prepared, creative, and incredibly patient. My kid was the least participatory and compliant of the group, and he still eagerly counted "how many sleeps till Coach Kevin" each week. He plays soccer at home every day now.
"
My 2-year daughter has LOVED her weekly soccer class with Diego and Angel. Our nanny takes her every week, and she has been telling me that class is absolutely wonderful and in particular, the coaches are excellent. She asked me to recognize specifically how great Diego and Angel are. She tells me they're extremely engaged and energetic with the kids and do an amazing job of keeping them active and entertained. I'm thrilled to hear my daughter is having so much fun, and I'm looking forward to many more seasons with SocRoc.
"
SocRoc rocks! James and Juan have been so flexible and really worked with us and our group. They're incredibly fair about refunds and makeups. Juan has been our teacher, and has gotten my 3 and 5 year old kids to truly love soccer and work on their skills. They now play soccer 24/7 in our living room thanks to SocRoc!
"
My family LOVES this program!! We just completed our second round of classes with Coach James! My 12 year old, 4 Year old and two nieces play ages 5 and 8! Everyone has learned so much and We all look forward to coming each week! This is by far the best soccer program we have done locally.
"
We love SocRoc classes! They have adapted to safe outdoor small groups or private classes in the last year - and I swear my 3 year old listens better to these coaches than to me! It's amazing to see him develop hand eye coordination and love of sports. I highly recommend SocRoc classes to all the mamas I know.
"
LOVE IT!! And more importantly so does my 4-year old daughter! They make it fun and engaging for all - even if a family member needs to chime in to help a little one. We are definitely going to be repeat customers!
"
Our 4yr old boys LOVED their Spring soccer class with Coach James! Would highly recommend. The classes are really a great mix of skill building and age appropriate fun! We can't wait for the Fall season to pick up again 🙂
"
We absolutely love the SocRoc program for our 5 year old son and 3 year old daughter! The kids always have a fantastic time and look forward to class. Special shout out to JP who is amazing with children!
"
Our son has been involved with SocRoc for the past 1.5 years. The coaches have provided a great environment that makes developing soccer skills fun for all the kids. The coaches are always pleasant and the boys have a great time. I highly recommend the whole SocRoc Team!
"
Love the varied activities for my 2 year old to gently introduce him to soccer. He is really engaged. Coaches have the patience of saints! The best class we do.
"
We've tried a few different soccer classes in the neighborhood and our children love the SocRoc coaches the best.
"
My kids love SocRoc. The coaches are amazing. They are able to keep the kids engaged and excited. We love it.
"
The coaches are enthusiastic and they make soccer fun for all of the children.
"
Loved it and our coaches, they were fantastic! Will do again in the spring!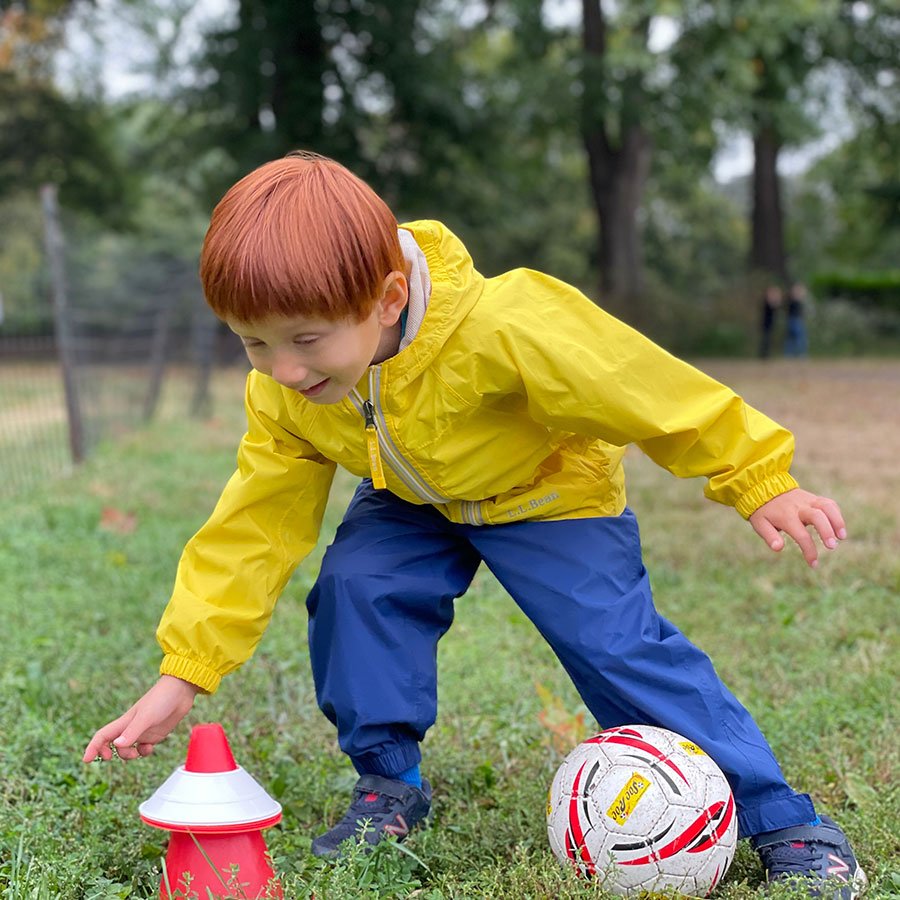 The goal at SocRoc Soccer is to encourage kids to be physically active, gain confidence, and learn social skills while discovering how to play soccer—the world's most popular sport—aka fútbol.
SocRoc prides itself in being a family-run business founded by former All-American and professional soccer player, James Christie. SocRoc coaches are hand-chosen by Christie and everybody at SocRoc takes pride in delivering unparalleled, positive, dynamic soccer classes for kids.
Our main goal: Make soccer fun!
Register Now
Explore all of our program options and register your child today before space fills up!